My sister was diagnosed with a dairy allergy a while back, and has found eating out a challenge because it's difficult to know when a dairy product may be hidden in a food. For her, it's a potentially life-threatening allergy, so as you might imagine eating out at restaurants doesn't fall high on her list of fun things to do. (Which is even a bigger shame because she also hates to cook!)
She told me about a restaurant in Tempe that she visited and liked and I was lucky enough that she treated Lydia & I to lunch there on Saturday.
Green
is located in a strip mall on Scottsdale Rd, but it's easy to find once you know it's there. It's 100% vegan, so she doesn't have to worry about any hidden dairy, and knows that if she does have cheese on a dish, it will be vegan cheese.
We had the crab puff as an appetizer. I know you only see one, but there were actually 4 -- the other 3 were eaten up faster than I could get the camera out. They were delicious, with a nice addition of garlic, and definitely creamy. They are as good (and even better than some!) dairy-full crab puffs I've ever eaten. My sister also liked them, and is happy she knows where to find some when she has a craving.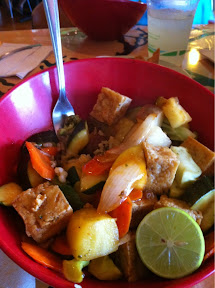 I had the sweet & sour with fried tofu and brown rice. It was a huge serving, and very filling. There were chunks of apple, lightly cooked, as well as pineapple, carrots and other vegetables. I'll admit I wasn't crazy about the fried tofu, but that's just because I don't like the texture. My sister says I should try the mock chicken next time, and I will.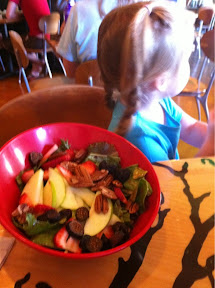 Lydia had the small balsamic picnic salad. It was a very generous portion, so I can only imagine how large the large would be! There were field greens with strawberries, sliced apples, pecans and figs tossed in a light balsamic dressing. Lydia gobbled it up (except for the figs. Which looked funny to her and so she wouldn't even try them. Her loss, as I tried them and they were good!)
My sister enjoyed coconut curry with mock chicken. She said it was delicious and is the same dish she had on her last visit.
We saw some people eating Tsoynamis -- which are vegan ice cream treats. They looked scrumptious, but we were full. Next time we'll visit for just a Tsoynami!
The restaurant is decorated very cute inside -- with a bright green ceiling and tables scattered about. There is a small seating area with a couple couches as well. One wall is covered with car doors, something that Lydia found very interesting. You order from the counter and then they bring your food to your table once it's prepared. The staff is friendly and happy to answer any questions you might have.
The prices were very fair, and the food we had was delicious. We wish there was one farther east, but it's a place we will definitely visit again and again. If you're looking for good food in the east valley, check them out! You can find Green at 2240 N. Scottsdale Rd, #8, Tempe, AZ. Their menu is posted (minus daily specials) on their
website
.
*Disclosure: No need for a disclosure, except to say that my sister treated us to lunch! Thanks again!*