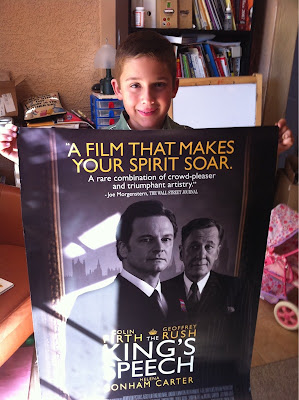 Nate came home from school today to a box from The Weinstein Company. They were the production company for the movie,
The King's Speech
, and they sent Nate a movie poster that was signed by David Seidler!
They included a note thanking him for being such a big fan. He was so excited to receive this surprise in the mail -- and how appropriate that it arrived during National Stuttering Awareness Week.
David Seidler is the screenwriter of
The King's Speech
, and we will be able to listen to him speak this summer! Nate and I are attending the
National Stuttering Association's Annual Stuttering Conference
in Texas and he is the keynote speaker. We are excited and can't wait to go.
I just asked Nate why he thought
The King's Speech
was a good movie and he said "Because it shows perseverance for people who stutter." A great thing to remember every day!